Street artworks, decorations and customisations
Graffiti Paris est avant tout le projet collectif d'artistes et de spécialistes du Street Art désireux de faire connaître au public toutes les richesses de ceGraffiti Paris is above all the collective project of artists and Street Art specialists who want to make the public aware of all the richness of this movement. The Graffiti Paris team will accompany you throughout the creative process in order to create the frescoes, decorations or Street Art customizations of your dreams.
Street mural artworks
Rien de plus déprimant qu'un mur blanc et vide… Donnez vie à toutes vos surfaces grâce au collectif Graffiti Paris.
Nothing is more depressing than a white and empty wall… Give life to all your surfaces thanks to the Graffiti Paris collective. With their knowledge and imagination, our artists deploy their talent for all types of walls.
In addition to being unique works, murals are a very good way to bring colour, life and originality to a place. They can bring new life to ageing buildings and can be a source of creativity for those who work with them on a daily basis.

Our artists offer to create custom-made street art murals for any type of project :
Indoor or outdoor frescoes, on any type of support and at any height.
For associations, schools, offices, underground cellars, buildings, trendy cafés or even the incubators of the future.
Reproduction of a defined fresco or complete creation on demand.
---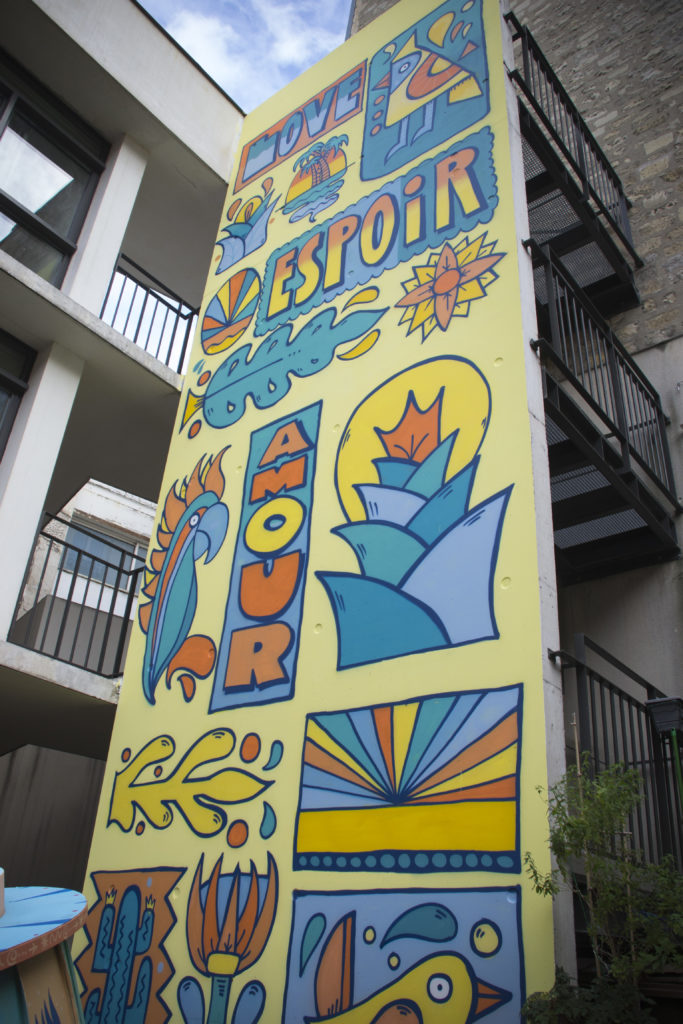 Decorations
Do you have an area to decorate but don't know where to start?
Dare to use colour with customised design work on different types of media: facades, menus, shop windows, rooms, website designs, visuals, graphic charters etc…
---
Custom work on objects
There's nothing like a customised object just for you! At Graffiti Paris, we offer a second identity to your objects (furniture, mugs, bags, totebags, skateboards, vinyls….) or clothes (trainers, t-shirts, caps…) according to your desires.
More than a simple customisation, we transform your personal effects into real works of art of everyday life !
How do we organise the realisation of murals, decorations and street art customisations?
The theme of the fresco is to be defined with the collective in order to have the best result. Our team collects as much information as possible about your request (dimensions, personal taste, chosen medium…) in order to offer you a tailor-made service.
Brainstorming with you and the Graffiti Paris team.
Our artists will produce two mock-ups within two weeks in order to define the visual aspect of your creative project and identify your graphic choices.
Once the mock-up is validated, our team gets straight to work!
Admire the result!
The frescoes are made to measure according to your expectations, so don't hesitate to contact us and tell us about your project. We will then be able to think about it together!
Don't hesitate to follow us on Facebook and Instagram to discover our latest workshops and events! You can also admire the original creations of our artists on our gallery or in our workshop.