Educational Workshops
We are committed to numerous local and associative structures, such as town halls, foster homes and schools, by offering educational workshops specially designed for young audiences. Through a theoretical basis as well as a practical discovery of street art, we seek to offer a space of creative freedom to all participants by awakening their consciences to the different historical and/or current stakes of urban art. Do not hesitate to contact our team to learn more about our educational workshops and collaborative frescoes.
Our credo
Accompaniment, Adaptability and Art Learning
The main mission of our educational workshops is to develop original projects based on our artists, the educational teams and all the participants. The goal is to find the best formula adapted to each request. For instance with the possibility of workshops indoor or outdoor.

Indeed, we create unique projects that meet specific learning objectives. We develop enjoyable and relevant learning modules with our partners through constant communication.

Finally, our experience with young people allows us to adapt our activities to all ages, levels and to the educational ambitions of the structures.
---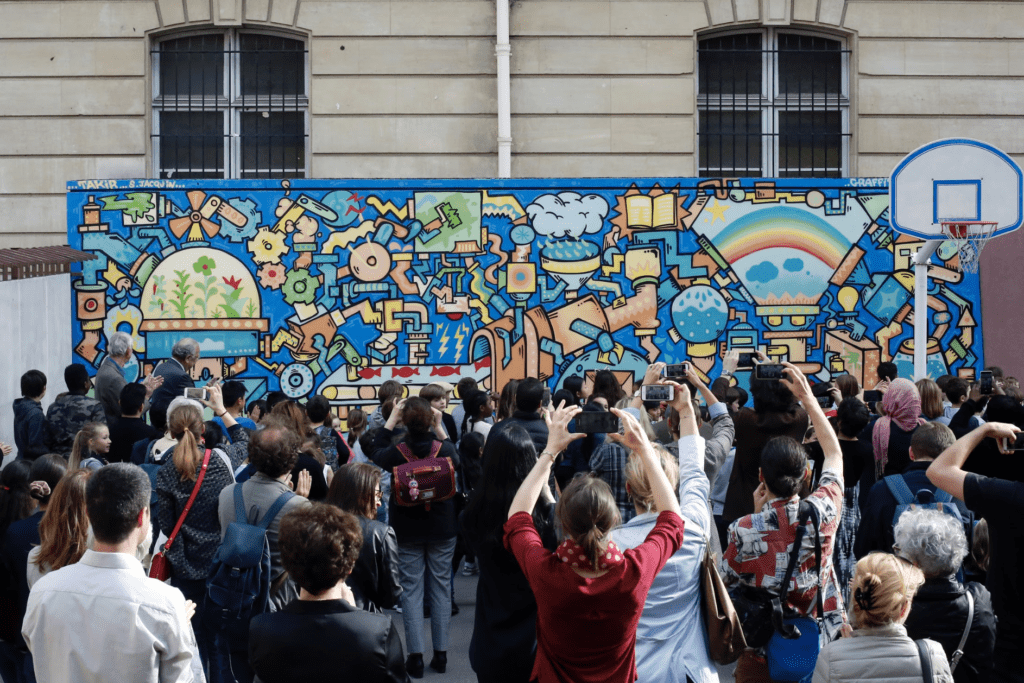 Educational subjects to explore through urban art :
The city : between elitism and democratization of art.
Outdoor art : from "on the motif" to "on the wall".
Ephemeral art : the question of the conservation of art.
To be rebellious today : the art between subversion and transgression.
Claim by art : why and how to leave a trace in the public space ?
Not allowed to display : the street, space of claim.
Artistic collaboration : when art is created together.
Underground art in the spotlight : disappearance or posterity ?
Politics and art : friends, enemies.
The letter, the word, the sentence in art : when the text becomes image.
---
Our educational workshops take different forms
They can take place as one-offs or regular interventions.
We offer theoretical lessons as well as practical workshops.
We can realize the activity inside the educational structures or directly in the heart of Paris.
Our Educational Workshops are a tailor-made activity and they depend on your objectives, so don't hesitate to contact us to create it together.
The workshops can also take place at your location.
Take a look at a Street Art Educational Workshops in video here.
Don't hesitate to follow us on Facebook and Instagram to discover our latest workshops and events !